Book event
Tasmanian Tiger, Tasmanian Devil and Shark
Fullers Bookshop, 131 Collins Street, Hobart, TAS 7000
Three books, one event.
Join David Owen and David Pemberton discussing their fully revised and updated editions of Tasmanian Tiger, Tasmanian Devil and Shark with Stephenie Cahalan.
Tasmanian Devil: Until 3000 years ago, the devil lived in the great eastern forests on mainland Australia. Now confined to Tasmania, it was ravaged by a facial tumour disease that threatened its existence. Tasmanian Devil recounts the fascinating story of its rescue from the brink.
Tasmanian Tiger: Once the world's largest marsupial predator, the Tasmanian tiger was deliberately hunted to extinction by settlers through fear, ignorance and greed. A number of Australian species have miraculously reappeared after being labelled as extinct. Perhaps the Tasmanian tiger is still with us. And if it's not, can it really be brought back by cloning and returned to the wild?
Shark: A major and fully indexed contribution to the preservation of this amazing creature, now much threatened by human activity – with losses from overfishing, pollution, and the destruction of their habitat. Although scientific knowledge of sharks is increasing rapidly, the Owen shows that there is still much to learn about these complex and elusive animals – though for many species it may already be too late.
David Owen is the author of 19 fiction and nonfiction titles, including the Pufferfish detective series, and Government House: A Remarkable Story. He is a former editor of Island magazine, and is now the Official Secretary of the Governor of Tasmania.
David Pemberton is a wildlife biologist and former manager of the Tasmanian Government's Save the Tasmanian Devil Program. He is co-editor of Saving the Tasmanian Devil, and co-author with David Owen of Tasmanian Devil and Tasmanian Tiger.
Stephenie Cahalan is a researcher and non-fiction writer based in nipaluna-Hobart, and the author of Colour and Movement: the Life of Claudio Alcorso and The People's Park.
Join them at the Afterword Cafe. You can purchase tickets below.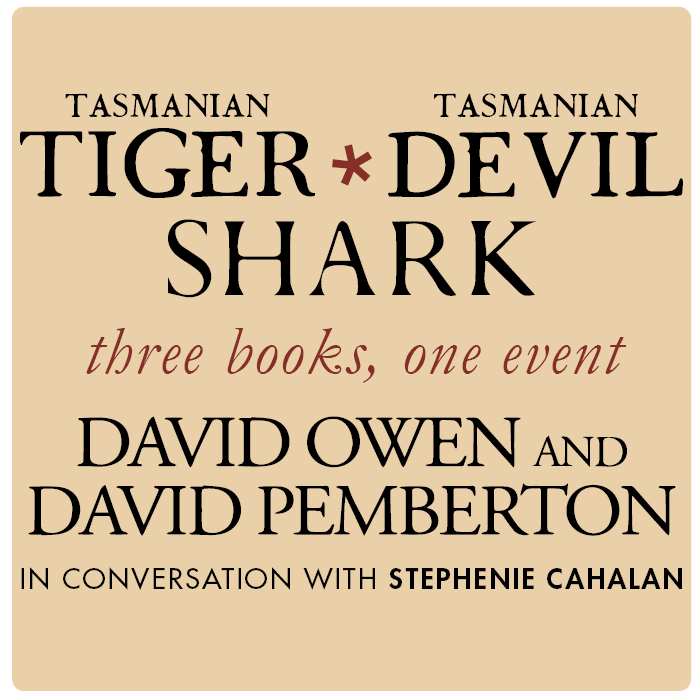 More events at Fullers Bookshop…
There are no upcoming events at Fullers, please check back later